Multi-cloud & multi-chain
Easy consortium management
Smart contract template library
Integrated developer environment
Zero-config REST API
SettleMint was basically like Lego for us.
It allowed us to quickly implement blockchain technology in the Vinçotte meat
tracing

app for Carrefour in one weekend and a couple of days testing. Efficient and safe, just like Vinçotte.

— Jonas van Hove, Innovation manager at Vinçotte
Launch it your way
The ultimate control and flexibility you need to deploy the right blockchain on the right infrastructure.
Multi-cloud
Deploy in the cloud of your choice:
Microsoft Azure

Google Cloud

Amazon Web

Services
Easily build cross-cloud provider and cross-geographical region networks, with the click of a button. On-premise and Bring-Your-Own-Cloud are also supported.
Multi-chain
Choose the blockchain protocol of your choice:
Enterprise Ethereum

Hyperledger Fabric

Corda
Match the blockchain to the use case, not the other way around. Setting up a production-ready blockchain network only takes minutes.
Easy consortium management
Start a business network and grow it over time. Govern the network with easy consortium management. Smoothly onboard new members, set permissions, and distribute your decentralized applications and smart contracts to the consortium members.
Simple interface & dashboard
Easily manage all your environments, networks and participants. Launch separate initiatives on separate protocols but oversee them all from a single, unified interface. Vastly reduce your operational overhead.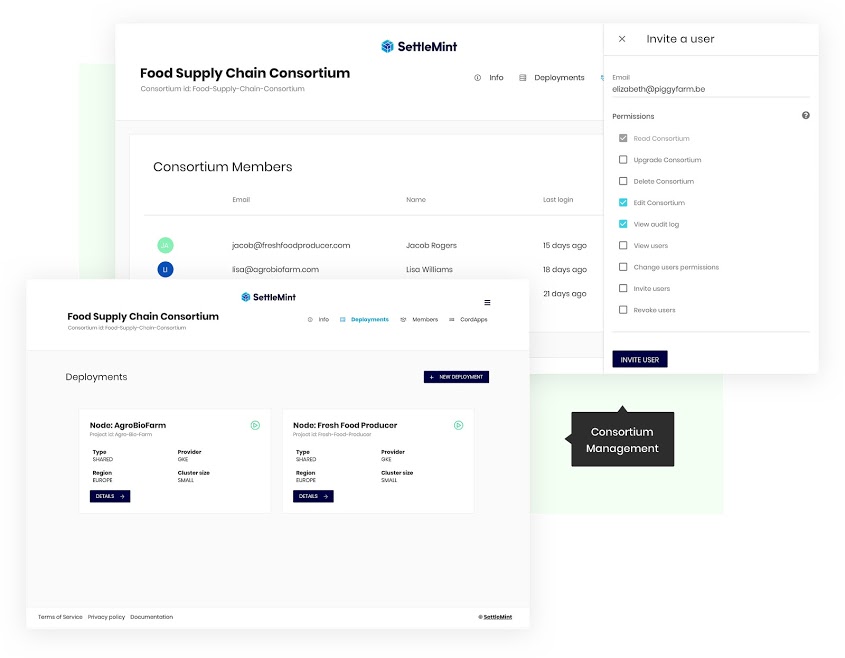 Build anything fast
The tools and framework you need to cost-effectively build and scale your blockchain applications.
Smart contract templates
Pick and choose from upgradable smart contract templates for proven use cases. Assemble the building blocks to create production-grade blockchain applications in weeks.
Integrated developer environment
Use the powerful Integrated Developer Environment to build your own smart contract in minutes. Just configure it instead of writing code. Build and deploy your blockchain applications fast and easy.
Out-of-the-box functionality for any use case
Go from use case outline to in-production blockchain application in weeks
using our pre-built smart contract templates
---

Track & Trace Create supply chain networks where participants have a real-time view of products' location, condition, owner, history, and projected path.

---

Immutable records Create time-stamped records that cannot be altered or tampered with.
---

Digital assets Create, distribute, exchange, and redeem digital assets.

---

Financial instruments Automate compliance, reporting, payments, and redemption of digital assets.
---

Digital twins Represent physical objects using secure digital assets.

---

Digital identity Create and manage digital identities. Identify individuals in your network and grant them the appropriate permissions.
Easily integrate with everything
The structure you need to securely connect your blockchain applications with any other application.
Full-feature connectivity
Craft full transactions yourself. Use the zero-configuration REST API to interact with smart contracts on an "application" level. This API does the real job – unlike other blockchain APIs that only expose endpoints. Use webhooks to connect easily to existing systems like ERP and CRM, or other blockchain networks.
Built-in security for every chain
Meet enterprise-grade security requirements and pick the features that match your blockchain protocol: secure key management, blockchain state caching, immutable data storage via IPSF, authentication options, encrypted messaging, and a blockchain indexer for complete audits.