For enterprises, public sector, and technology partners who want to innovate with blockchain and empower their IT team to build with the right tools.
Trusted by companies around the globe
Build blockchain applications quickly with the most comprehensive and easy-to-use platform
SettleMint gives developers the infrastructure and tools they need to quickly and easily build decentralized applications (dApps) and integrate them seamlessly into business operations and existing legacy infrastructures.
Speed up go-to-market of new ideas and outperform competitors
Accelerate time to value and move to production in weeks
Up-skill developers to blockchain developers in no time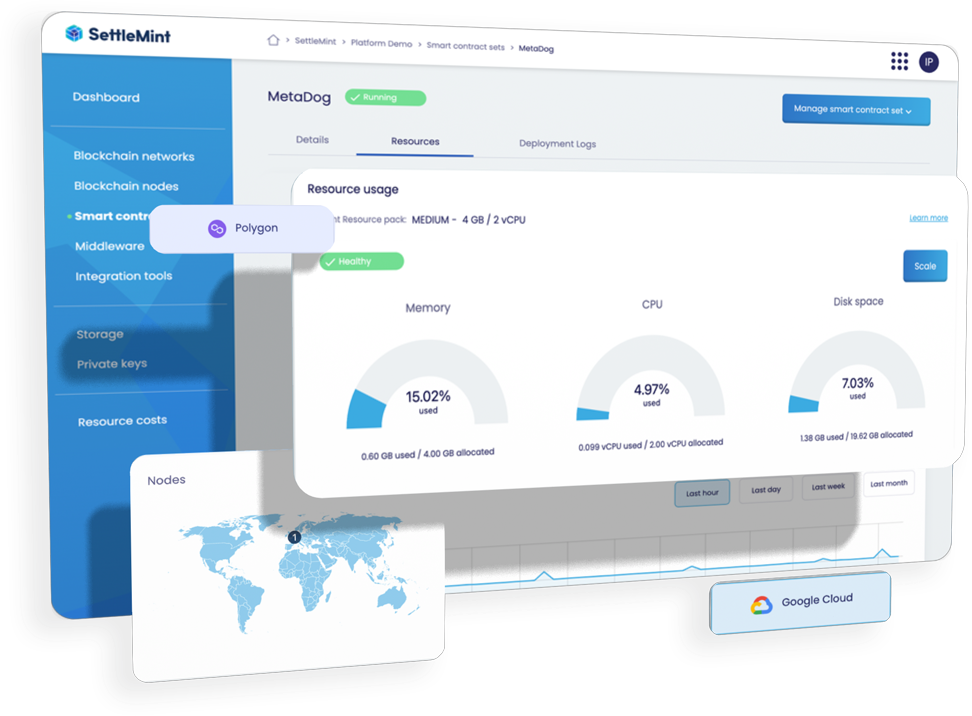 Unified developer experience
All the best-of-breed tools from the developer ecosystem, combined with innovative in-house developed modules: infrastructure management, application development, system integration and observability all wrapped into a single unified developer experience.
Execute faster
Go low-code with the flexibility to add your own code. Start from preconfigured, yet fully customisable, quick-start components and templates to get straight to the core of your specific use case. We are talking days, not months to get your blockchain app in production.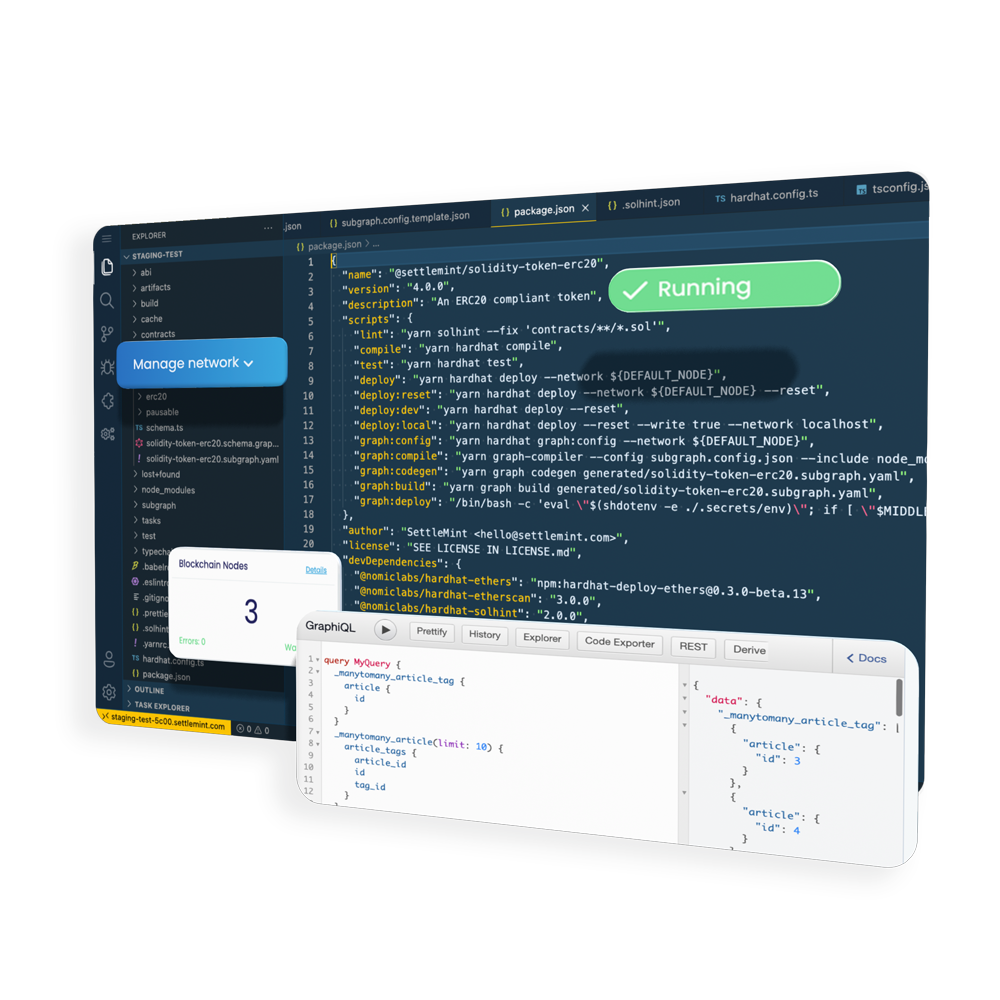 Enterprise-grade by design
Designed to be a high-performance platform for enterprise and public sector, to meet security and compliance standards. Easily deploy you dApp on-premises, in your own cloud, in air-gapped environments or any of your existing data infrastructures. Integrate smoothly with legacy systems and customer-facing applications. Scale your business with ease.
"SettleMint's low-code platform enabled the rapid deployment of our 1st NFT technology launch, creating innovative consumer engagement in a matter of weeks."
Milan Topolic
Technology Innovation Manager
at Coca-Cola HBC
Powering enterprises across all industries
Designed as a general purpose development platform, SettleMint supports virtually any use case or business process that involves blockchain technology.
Explore examples in your industry.
Dive into more resources
Check out our resource library for everything you need to know about blockchain.
Minibooks
Get the key insights you are looking for! Learn the ins and outs of successful blockchain implementations. Must-read.
Webinars
Join our webinars with the best minds in blockchain. Missed a live webinar? Our on-demand webinars are free!
The Knowledge Hub
Upskill your team to master the fundamentals of blockchain and the SettleMint BpaaS platform.
Demo videos
Watch and learn. Here you can find the product demos to help you get started with the SettleMint platform.
Documentation
A full guide on our platform features. Check our product documentation, and find everything you need to know.
Developer Support
Get the most out of SettlMint, reach out to our experts for personal support and join our online community.
Don't wait to innovate.
Accelerate your blockchain journey now!
Enterprise & Public Sector
Tell us your challenges, plans or ambitions. We're open to talk to you or give you a demo of our platform.
Technology Partners
Help your customers realize their blockchain enabled digital transformation. Join our partner program ecosystem.