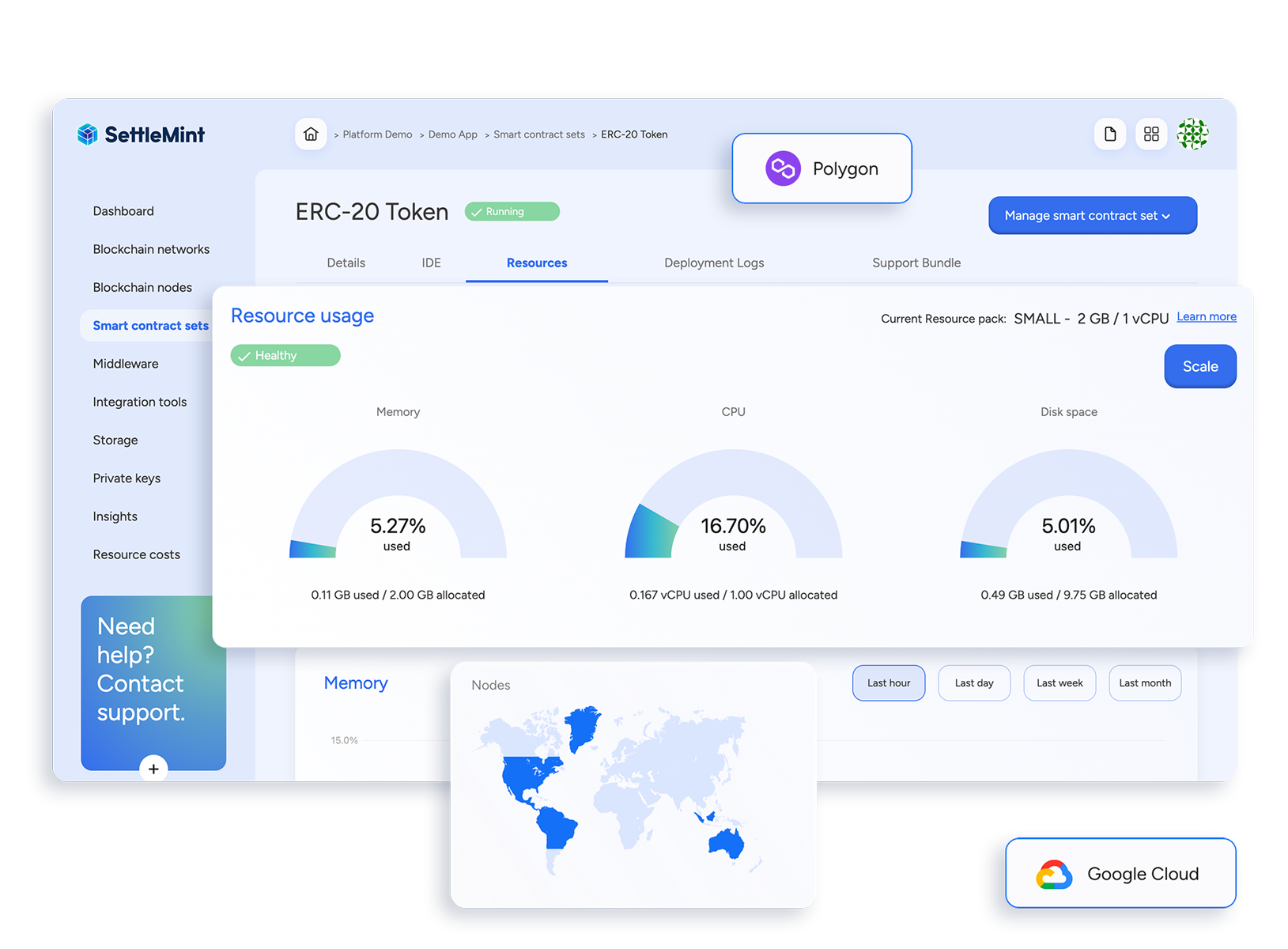 Deploy your blockchain application wherever you want
Build, integrate and deploy any blockchain application easily in the infrastructure of your choice:
In your fully air-gapped on-prem environment
In your own cloud
In SettleMint's managed cloud services
The advantages of deploying your blockchain application on-premises

Compliance
Privacy
Ownership
Control
The ability to deploy blockchain applications in existing infrastructures is especially useful for use cases in financial services, the public sector and highly regulated industries, where sensitive data is being stored and security is paramount.

One option is to use SettleMint's built-in managed cloud solutions, which enable you to:
Choose a managed cloud solution from AWS, Azure or Google.
Choose the location of your cloud servers to manage latency and enable decentralization across your blockchain application.
Save time and costs by building and maintain your own hosting infrastructure.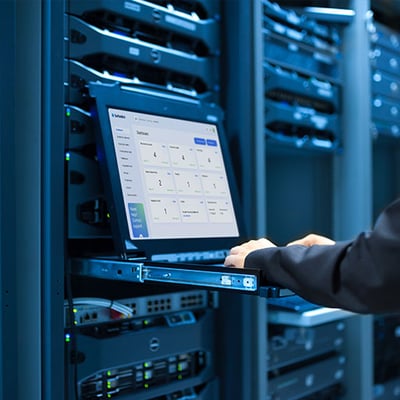 On-premises solutions
Another option is to deploy on-prem, with three methods available. Each has its own distinct advantages but they all enable you to:
Run one line of code and experience SettleMint's Blockchain Transformation Platform in any deployment scenario.
Streamline DevOps processes with pre-flight checks and support bundles that ensure the right cluster is set up, and both memory and storage configurations are correct.
Take full control of your hosting infrastructure and customize it to fit your specific needs.
Run SettleMint on your own air-gapped storage repository to:
Protect your data from external threats, such as ransomware and viruses.
Keep your data safe behind your own enterprise-configured firewall.
Stay compliant with cyber security standards that meet your legal or corporate policy needs.
Discover more
Deploy any blockchain application in your existing cloud subscriptions, so you can:
Host your blockchain application on your existing cloud subscriptions with AWS, Google, Azure, IBM Cloud and more.

Take control of configuring and managing your own cloud environments by defining the RAM, CPU and storage you need.
Set the firewall and security rules in your cloud environments to match your enterprise needs.
Discover more
Launch all of SettleMint's tools inside any of your existing infrastructure and configurations in order to:
Build and deploy your blockchain applications in any of your existing infrastructures on Kubernetes and Openshift.
Keep full control of how your blockchain application interacts with your existing technological stack.
Prevent additional costs associated with setting up or connecting to new hosting environments to deploy your blockchain applications.
Have full ownership of your hardware set-up and manage the performance of your blockchain applications with complete autonomy to configure the CPU, RAM and storage settings you need.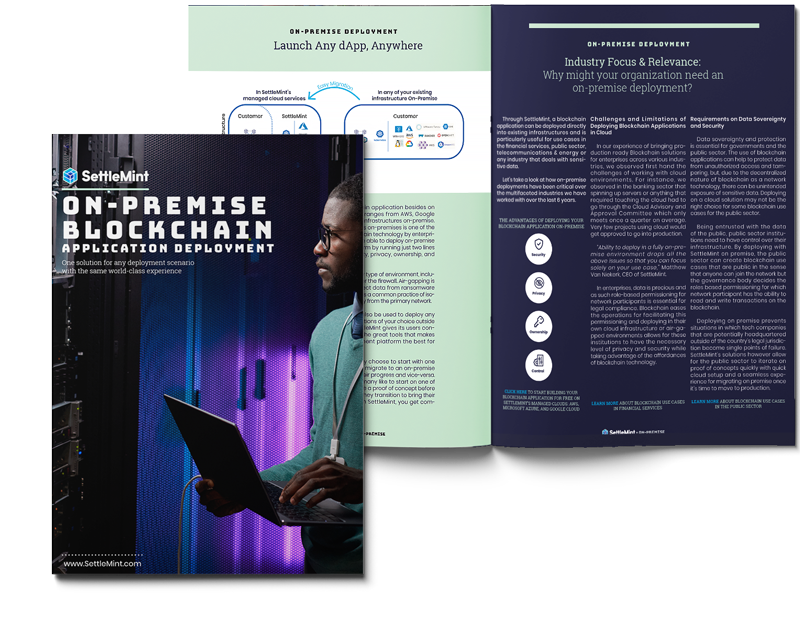 Free Guide:
On-Premises Blockchain Application Development
• One solution for any deployment scenario
• How to launch any dApp anywhere
• Industry Focus & Relevance